---
What is CUBE3.AI?
Real-time Web3 Transaction Security

CUBE3 is a real-time web3 security platform, creating a safer web3 through runtime transaction security. We make real-time web3 threat protection essential by offering machine learning models that go beyond code security (audits and bug bounties) to ensure real-time threat protection for production deployed smart contracts and applications.

Why use CUBE3.AI?
When deploying a smart contract, you audit for vulnerabilities, run a bug bounty, and then launch, hoping your assets are safe. Until now, there was no real-time solution for transaction security.
Our machine learning models determine a risk score for transactions and contracts and block individual exploits in real-time, so that smart contracts can continue uninterrupted and secured.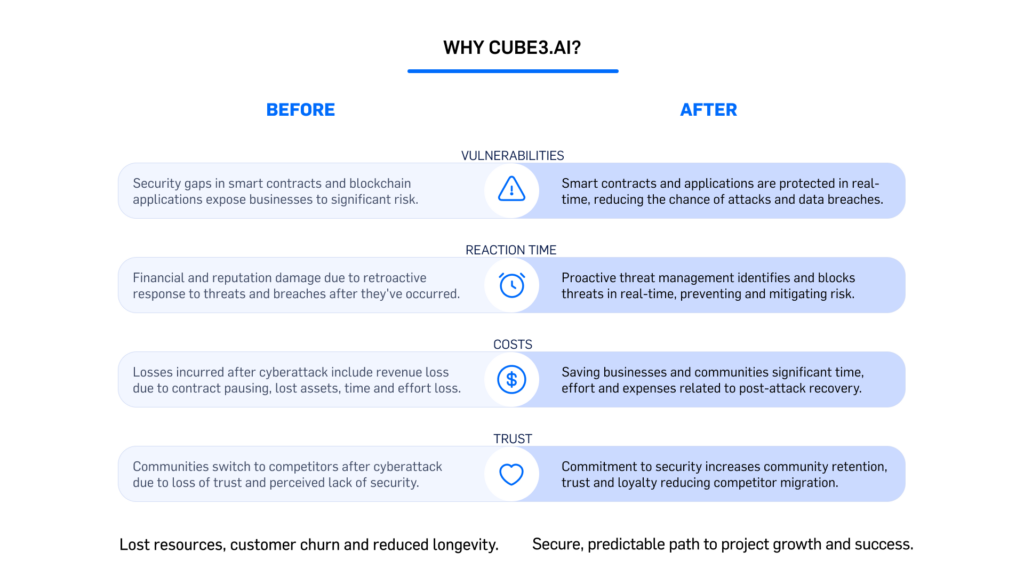 Who is CUBE3?
We're a US and EU company made of ML researchers, white hat and blockchain engineers and backed by leading VCs. Learn more about the team and our vision to secure web3 on the About us page.
---