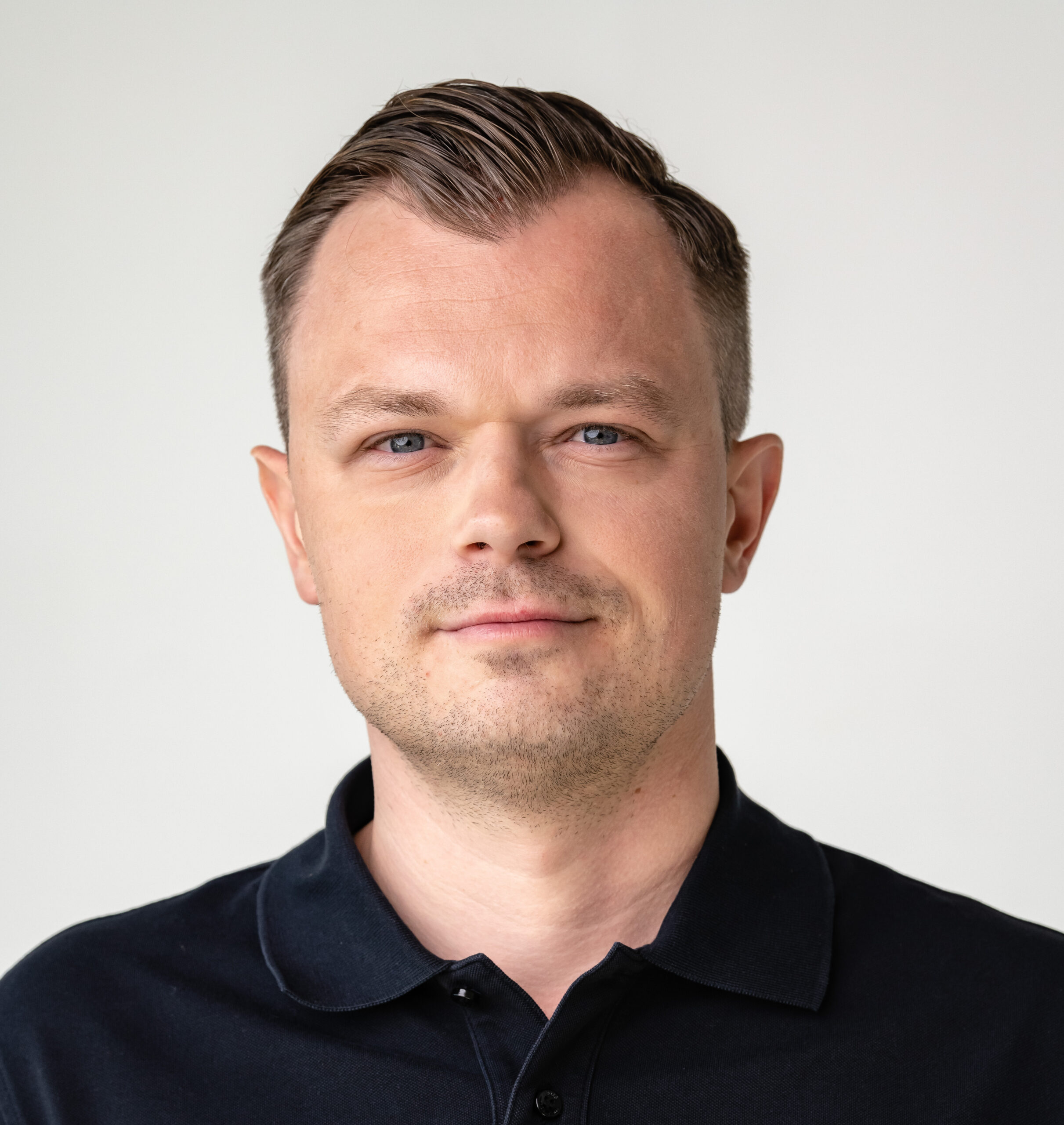 ---
Mastercard Selects CUBE3.AI for Start Path
As you might have heard, we've achieved another major milestone: CUBE3.AI has been selected for Mastercard's Start Path Blockchain and Digital Assets Program; the same program that has helped accelerate the growth of projects like Avalanche, Revolut, Uphold, and many others. CUBE3 is the first blockchain cybersecurity company accepted since the program was founded in 2014. We appreciate the recognition by Mastercard's CEO Michael Miebach, and we're thrilled to join the Start Path initiative in order to ensure the security of web3 transactions.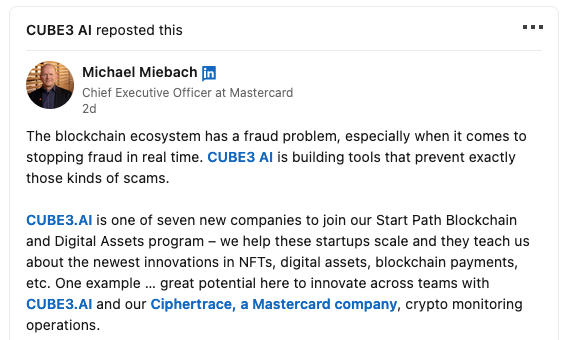 Start Path works with high-potential blockchain startups that share a vision to make web3 technology and digital assets more accessible. CUBE3 is making real-time blockchain security essential for those that interact with digital assets, cryptocurrencies and web3 applications. Participating in Mastercard's Start Path program will give us the opportunity to expand our expertise with Mastercard product teams and security specialists. By combining our tools and knowledge, we can fill security gaps, mitigate fraud, reduce compliance risk and vulnerabilities before they happen.
While crypto and blockchain are becoming more scalable and resilient, a lack of standardization and high-profile hacks have eroded trust for businesses, developers and users. With the support of Mastercard, CUBE3 can continue to make web3 safer while also bridging web2 companies into a more reliable ecosystem.
Watch a quick overview of CUBE3 and Mastercard's Start Path here:
Continuing a legacy of innovation
Since the 1960's, Mastercard has been innovating and adapting with technological breakthroughs, leading user-friendly and secure digital asset transfers.
Through the Start Path program and the Mastercard Developers portfolio, the company provides an express lane for fintech companies of all sizes to build, launch and grow. Since 2014, 360 companies from 43 countries have participated in Start Path.
The success of innovating digital payment rails depends on a variety of factors: technical challenges, regulatory frameworks, and user adoption. It's clear that there are no solutions to these challenges if web3 infrastructure is not secure. The mission of CUBE3 is to make real-time transaction security essential for web3. Our mission directly connects to Mastercard's goals of bringing more trust to blockchain transactions for portfolio companies, clients, and customers. By collaborating with the Start Path program, CUBE3 and Mastercard can increase the success in solving real world problems using blockchain technology.
What does Start Path mean for CUBE3.AI?
Start Path program is an ideal way to scale our services to a wide range of businesses exploring or already using blockchain technology. Therefore, by accessing a diverse and global customer base, we can co-create and better protect this rapidly evolving industry.
The other members of the Start Path program are building and supporting the web3 ecosystem, and it was a pleasure to meet founders from; Cenoa, Crossmint, Emerge, LiFi, Lirium, Polytrade. We want to help companies like those in our cohort focus on building great products and boosting consumer confidence in web3. Cryptocurrency users are projected to reach 347 million by 2027, with a total wallet market value of $2.8 trillion by 2028. According to Mastercard's internal data, blockchain transactions have 4x higher fraud rates compared with non-crypto transactions. It's clear we need to secure transactions for everyone, and what we do is critical to the future of web3.

Join CUBE3 and apply to the Start Path program
Participating in Start Path will help all members safely accelerate the adoption of blockchain technology. The goal of CUBE3 is to provide more founders with the real-time transaction security tools that protect web3 applications from cybercriminals. As a result, smart contracts can block malicious threats before they occur.
Are you a blockchain based business that wants to test our tools? In addition to no fee sign up, we provide the core of our services as a public good at no charge. Join our community, get a demo, and protect your smart contracts.
If you are building a business helping to secure, scale and decentralize web3 systems, join the next cohort and apply to the Start Path program here.
---