---
Real-time Web3 Data and Security with ZettaBlock & CUBE3.AI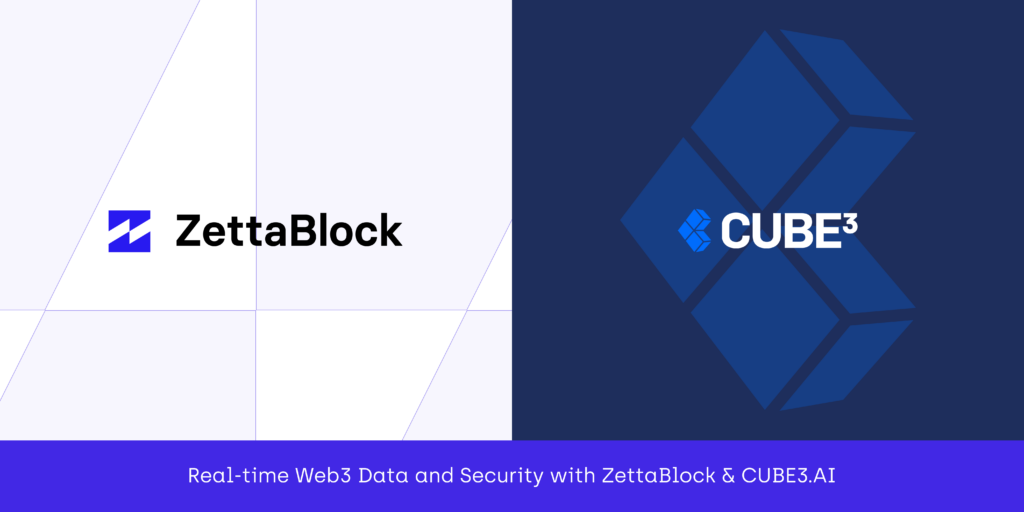 ZettaBlock and CUBE3.AI both provide developers with the tools they need to build secure and reliable web3 protocols and applications for real-time web3 data and security.
ZettaBlock is a full-stack web3 data platform that helps developers easily access data indexing. CUBE3.AI is a real-time transaction security platform that provides runtime protection from fraud, cyber exploits and compliance risks. Clearly we are complimentary as you can't have reliable transactions without data availability and transaction security.
We caught up with Chi Zhang, ZettaBlock's Co-Founder and CEO to get her thoughts on critical developer tools, the value of real-time transaction information and the importance of web3 partnerships.
What is ZettaBlock?
First, can you give us a quick summary of ZettaBlock and why it's so valuable for the web3 ecosystem?
ZettaBlock is an institution grade developer platform for web3 developers. With ZettaBlock, developers can unify on and off chain data, apply custom logic, and instantly generate product grade APIs that scale infinitely. We believe data is at the center of web3 use cases, and currently power a variety of analytical and real time applications across finance, gaming, community, and more.
What is Real-time Web3 Data?
Real-time data and security are essential for so many projects. How is ZettaBlock reducing data latency and increasing data availability for the web3 community?
ZettaBlock eliminates data latency and opens data access by surfacing blockchain data in real-time. Currently, teams can get real-time data via custom APIs or real-time triggers.
Unlike fixed path APIs, ZettaBlock gives developers the flexibility to define their own logic. They can also combine any number of datasets, whether it be across chains, proprietary, or off-chain datasets.
Our real-time trigger solution allows teams to define their own criteria and receive only the data they care about. This eliminates expensive querying, while maintaining the flexibility custom APIs provide.
Chris Griffiths, CUBE3's CTO, wanted to provide perspective on how we use ZettaBlock for real-time data security. Here's what Chris had to say:
CUBE3 uses Zettablock's rich data platform to rapidly build and deploy new and innovative services for our customers. ZettaBlock gives live access to blockchain data across chains, which helps us build real-time security assessments using our machine learning pipeline to identify risks in near real-time (measured in seconds). This solution allows us to rapidly prototype and scale our solutions for production much faster than other platforms.
What is Real-time Web3 Transaction Security?
For those developing smart contracts, code security (audits, bug bounties, etc) is foundational, however, there are very few "post-audit" solutions for real-time security after a contract has been deployed (read more here). CUBE3.AI leverages advanced machine learning to detect and block runtime threats before they resolve on-chain. What is the value of real-time transaction security to ZettaBlock's partners and users?
Meaningful transactions require confidence. Before developers can build web3 apps, they require both accurate data availability (ZettaBlock), and security (CUBE3.AI).
We work across the web3 ecosystem with L1/L2, solution providers, and dApp developers. All require security. Unfortunately, the status quo is often limited to Audits, which have proven unsuccessful to prevent all hacks.
With CUBE3, web3 developers can not only get access and alerts to threat assessments 24/7/365, but also block malicious threats in real-time. CUBE3 has a vast amount of security data and proprietary models, which are actualized with ZettaBlock's real-time and scaled services. Protecting users with runtime risk assessment opens up use cases, welcomes increased liquidity, and most importantly, ensures web3 users are not exploited by malicious actors
Web3 Community Collaboration
CUBE3.AI is not only super excited to collaborate with an enterprise-grade product that can grow safer web3 adoption but we also appreciate your team. Before we conclude, we wanted to note how helpful and collaborative the ZettaBlock team is. Again, here's some input from our CTO, Chris:
The ZettaBlock team is always willing to work with the CUBE3 team on new and interesting projects and help us optimize how we approach our data requests within their platform to better use resources and help speed up our tasks.
Building a secure and scalable web3 world will take the effort, expertise and solidarity of all members, and the tools ZettaBlock partners provides are invaluable. What is the best way others can get involved with the ZettaBlock community?
Here is the sign-up form for ZettaBlock's community accounts.
Thanks for the time today. We're looking forward to scaling tools that bring real-time data and security to the web3 community. Providing developers with the tools they need to build secure and reliable web3 protocols and applications is a shared mission that can create a more decentralized and secure internet infrastructure.
---