---
Minterest Protects Decentralized Lending with CUBE3.AI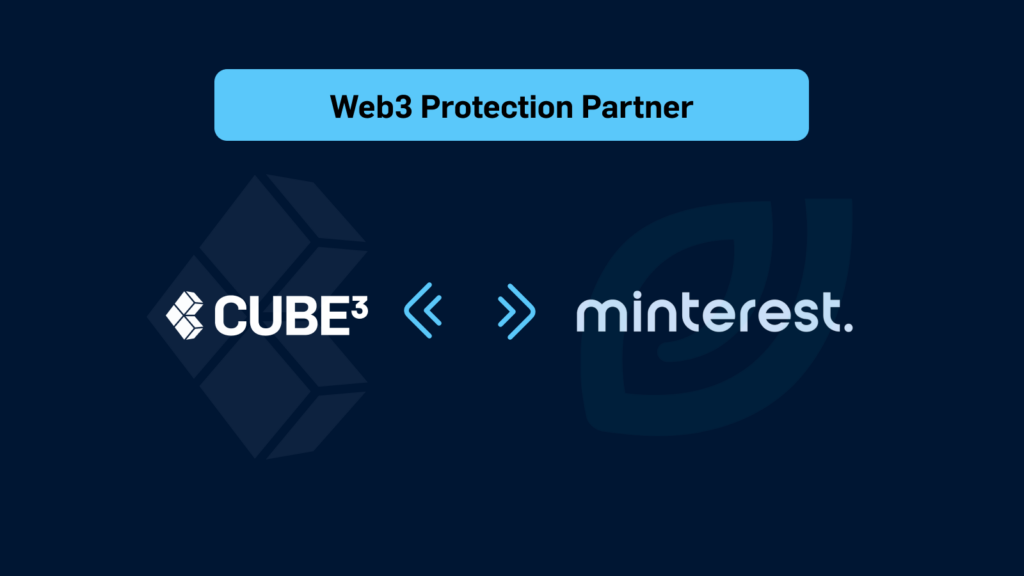 Minterest has chosen to partner with CUBE3.AI as a customer to protect their decentralized lending protocol and community. This partnership enables Minterest to not only monitor and inspect transactions in real-time, but once fully integrated, block malicious threats before they resolve onchain.
To protect decentralized lending, CUBE3 monitors Minterest protocol with advanced machine learning, by evaluating every transaction interacting with their contracts. In addition to monitoring and detecting exploits, fraud and scams, CUBE3's Runtime Application Self Protection (RASP) "Protect" product can block malicious transactions. Minterest further enhances transaction security with RASP implemented. CUBE3 blocks malicious transactions based on customizable thresholds, so it does not need to pause contracts if a threat is detected like other solutions. Consequently, increased trust not only increases community sentiment, but also provides incentives for liquidity providers and borrowers when contracts continue, uninterrupted.
"Minterest invests a lot of resources into the security of the protocol. The monitoring solution of CUBE3.AI became a solid addition to our toolset. It is extremely easy to set up, it is robust and autonomous, it delivers detailed information about potentially threatening transactions in realtime. We value the quality of services provided by CUBE3.AI and plan to deepen our partnership and integrate more of their security products."

–Denis Romanovsky, CTO @ Minterest
Follow @Minterest and @CUBE3AI on Twitter(X) for our upcoming AMA.
More about Minterest
Minterest is a money market protocol designed to drive cross-chain liquidity while offering the highest long-term yields for suppliers at the lowest cost-effective rates for borrowers. Minterest is able to do this through technical innovations that capture greater fees. Incentives are aligned by distributing 100% of the captured fee back to users for their participation in the protocol's governance.
Project Status
Minterest is currently operating in a closed beta on Ethereum, with listing and public launch scheduled for Q1 2024. Q4 2023 – Q1 2024 roadmap includes expansion of Minterest onto select chains via bridging architecture that supports cross chain lending/borrowing.
6 Security Audits: Trail of Bits, Hacken, Peckshield, Zokyo
Official Project Links
Learn more about real-time transaction security, sign up for Detect and Manage for free, or request a demo.
---