Head of Business Development and Partnerships
---
TOKEN2049 Trends with CUBE3.AI
As one of the prominent crypto events in Asia each year, Token2049 brought together founders and executives from web3 projects, DeFi platforms and protocols to Singapore in September. It was attended by some of the most influential and prolific builders in the space including Eric Wall of StarkNet Foundation, Rune Christiansen of MakerDAO, Sergey Nazarov of Chainlink Labs, and Kain Warwick of Synthetix, among the 200+ speakers shaping the industry. With 10k+ attendees, 300+ exhibitors, and 400+ side events, the conference is for those looking to enter into and capitalize on crypto globally, with focus especially the Asian market. For CUBE3, our goal was to connect directly with the web3 community in order to help secure the future of blockchains at Token2049, and beyond.
Following the successful public launch of CUBE3 in August, our positive media exposure helped pave the way for a busy TOKEN2049. We had over 30 in-person meetings with leading projects, and countless interactions with passionate web3 community members. This post helps to clarify and summarize the Token2049 trends, conversations and concerns we heard from a variety of projects and conference participants.
Future Security Challenges and Solutions
At the conference, there was much discussion regarding various Optimism and ZK-based scaling solutions. Such technical improvements capture the attention of developers and founders, but also have the potential to introduce new security considerations. Conferences like TOKEN2049 give CUBE3 the opportunity to understand the best way builders want and need to secure EVM-blockchains for the future. Developers heralded security as one of the core tenets of their ethos presented much of the innovation.
It's our goal at CUBE3 to make web3 safer with real time transaction security, and we know that happens on a grassroots level with the builders themselves. The most effective way to connect with builders at TOKEN2049 was to focus on the side events, away from much of the noise. The quieter settings were opportunities to connect and chat about the real risks that the community is facing. In contrast to the main event — where people were moving fast, visiting booths, or going to panels — the side events were a perfect opportunity to understand the depth and complexity of the projects that our community is working on.
Speaking with Builders About Web3 Security at Token2049
The founders that we spoke to at TOKEN2049 understood the threat of hacks. However, many of them believed that their only option was to either kill the contract or get notified that they had already been exploited. Getting to have a conversation directly with founders about real-time transaction security was a great benefit. There was a real "WOW moment" for many founders when they realized with CUBE3.AI, they could decline individual malicious transactions rather than pause their contract.
In addition to the DeFi platforms that we spoke to, the DeFi aggregators were interested in understanding not just the security stack in place for the DeFi protocols, but were also interested in adding security measures at the aggregator level. Our approach to security has always been that there is no single silver bullet and that developers must have a multipronged approach. It was reassuring that many of the founders in the DeFi aggregator space were looking at their own multipronged approach to security rather than relying on the security of the chains or dApps that they work with.
TOKEN2049 Trends with CUBE3.AI Recap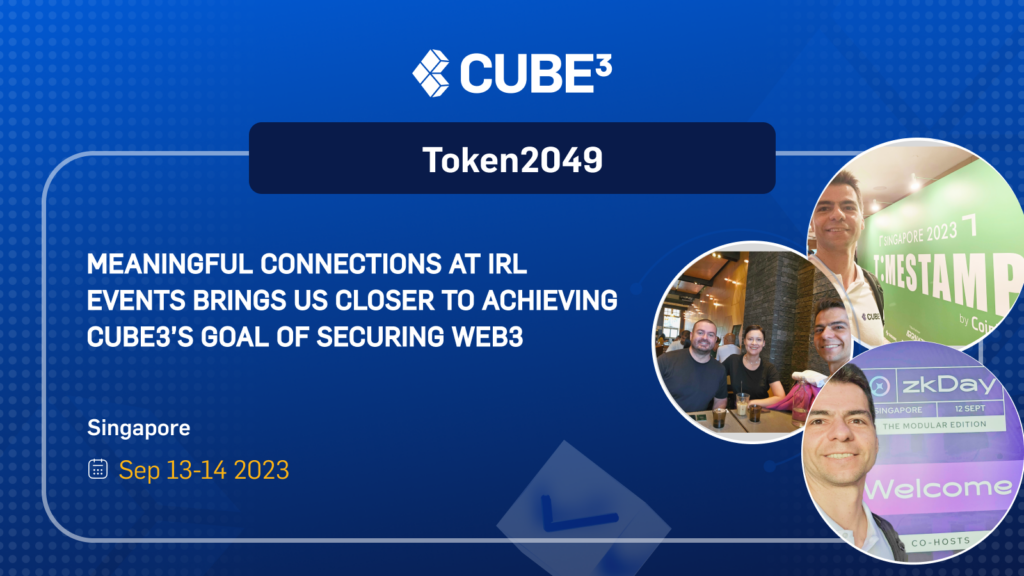 Building meaningful connections was important at TOKEN2049 because it brings us closer to achieving CUBE3's goal of securing the web3 industry. Due to the high profile hacks and exploits covered by the media, blockchain security is an instinctive fear for founders, real-time transaction security was a conversation that founders were keen to have, and TOKEN2049 provided the perfect setting for that open dialogue with builders.
The event in Singapore was a big win for CUBE3 due to the number of meaningful meetings and connections with brilliant leaders of our community and the web3 industry. Here are some final TOKEN2049 Trends with CUBE3.AI worth review:
TOKEN2049 highlighted the benefits of being where the builders are. The crypto ecosystem can create consensus when conversations with knowledgeable and passionate creators are plentiful.
It was very clear that security is a common fear for founders. It was also a topic where people were very open to collaboration and knowledge sharing.
One of the most consistent TOKEN2049 trends with CUBE3.AI, was real-time transaction security was a conversation that nearly every founder was keen to have. Understanding more about the web3 security stack is an essential need for them to feel secure.
The success of the event was the number of new connections with the founders and builders in the space who are prioritizing security alongside scale. A lot of brilliant people were there in Singapore and everyone was ready to talk about the role of security in scaling web3.
Vinicius is the head of Business Development and Partnerships at CUBE3.AI. Get in contact via his Telegram @ViniFRibeiro on LinkedIn or [email protected].



---